Meet Our Studio Teachers and Personal Trainers!
CAILIE CURRIN
Studio Owner, Yoga Instructor, Certified Personal Trainer (NASM - National Association of Sports Medicine) Certified in Nutrition and Healthy Living (Cornell University).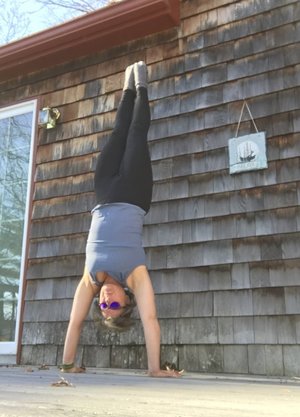 Cailie has had a personal practice for many years. For her it offers a way to slow down her tendencies to move very quickly through life. As a yoga teacher, her classes focus on preserving mobility, core strength and balance as she has found these to be the essential as we age. As a personal trainer, she emphasizes functional strength and stability. Cailie is also holds Certificate in Nutrition and Healthy Living from Cornell University. She has learned in her own life and in those she has taught that nutrition is the foundation for fitness.
Zaidee Bliss, Master Yoga Instructor, Teacher Training Instructor
Zaidee started teaching back when she was 16 at her local ice skating rink. From then on, teaching became a way for her to learn more about what she loves. Later, while working as a mediation and conflict resolution teacher in New York City public middle schools, she went to school at the Institute for Integrative Nutrition followed by her first teacher training for yoga at Kripalu. Zaidee taught at a few studios in New York City for a while before she moved to New Hope, PA and began her study of alignment based Hatha Yoga.
Currently, Zaidee is living in Easton, NY and teaching out of her dream studio in Greenwich, NY. She studies continuously with different teachers and practices meditation with Paul Muller Ortega of Blue Throat Yoga.
Zaidee's classes are deeply influenced by her fascination with physics, the human body and the desire to find a sense of peace and real joy in every moment of life. Her classes are well rounded and designed to suit the needs and levels of her students. She pays special attention to correct alignment in order to more safely enhance her students' practice while allowing them to align again with themselves. Each class is unique and can have themes that relate to daily life or themes that are just kind of kooky and fun. Meditation and the way we live are important parts of the yoga practice and emphasis is put on this practice in varying ways. Zaidee wants everyone to love yoga as much as she does and is ready and able to help you integrate yoga and the lifestyle of yoga into your life.
Carol Hopper, Yoga Instructor
Carol knew for many years that studying yoga was in her future. It was clear that it was a practice that was good for her body, mind and soul. When living in Greenwich, Carol practiced with Zaidee at Align Again Yoga and has since completed her 200 hour yoga teacher training. Through teacher training Carol has extensively studied and practiced meditation as well as focused on the importance of safe and proper alignment in yoga practice. She has personally experienced the benefits of a regular practice through improved health, greater self-insight, and reduction of stress. A warm, caring and supportive class that has a combination of challenging and soothing poses is what you'll find in her classes.
George Green, Yoga Instructor
After retiring from a career in natural resource aviation, George wanted to find activities that challenge both the body and the mind. Fortunately he found yoga and was able to develop an asana practice with some excellent teachers in various traditions while exploring his lifelong interest in philosophy and spirituality. George decided the best way to combine his love of the asana class experience and his desire to go deeper into breath techniques and meditation would be to take a teacher training.
He explored various schools of yogic thought and eventually found that Hatha yoga brought to him a sense of curiosity about our human condition as well as contentment with the process. In the fall of 2011, he started a year long teacher training at Detox Yoga in Saratoga with Mark Kinder and on completion started teaching there, as well as at Align Again yoga in Greenwich.
George says, "I try to bring to my classes the skills helpful in reaching the serenity I experience when I practice, the maintenance of safety through alignment assists, and a curiosity in wondering about the connection of body mind and spirit"
Jenness Bivona, Yoga Instructor
Jenness started practicing Yoga in 2001 as a way to compliment running and was a constant when she became pregnant with her child in 2004. Unfortunately, her Yoga practice became non-existent until 2014, when her best friend encouraged her to attend a Yoga class with Kimberly Beekman of enLIGHTen. Jenness' love for Yoga was reignited; Yoga gave her the gift of connecting with herself both physically and spiritually.
In 2016, Jenness completed her 200-hour Yoga and Meditation training with Kimberly Beekman. Jenness is a member of Yoga Alliance. Jenness specializes in is Vinyasa and Prenatal Yoga. In addition, she is a Reiki Practitioner Okuden Level II and an Inner Alignment Coach. Jenness enjoys spending time with her family in the outdoors and traveling.
CHRIS LINCOLN, TAI CHI INSTRUCTOR
Chris has practiced tai chi for over twenty years, is a senior student of the Tai Chi Center in Saratoga Springs, and has been certified to teach by Grand Master William C. C. Chen of New York City. He has experience in a variety of tai chi forms, including tai chi sword, Qi Gong practices, and the martial arts of bagua and Hsing-I .
Betty Longo, YOGA INSTRUCTOR
Betty (RYT-200) began attending yoga classes about 10 years ago with Natasha Judson in Cambridge to improve her physical fitness. She soon realized that there was so much more to the practice which reignited her interests in comparative religions, depth psychology and early training in TM. It was clear that yogic studies could provide a road map for personal awareness, healing, and for exploration of spiritual growth. She trained in the Bhakti tradition with Gopi Kinnicut, formerly at Yoga Mandoli in Saratoga, and experienced her first yatra with Gopi and Gaura Vani to sites in India where the stories and traditions of a 5000 yr old wisdom continue to flourish. She completed an additional 40 hours in Restorative training with Ann Biasetti and enjoys ending a class with 1 or 2 resting poses. She works as a Psychotherapist and has been subbing at the studio the past several years.
Jessie Curtain, Yoga instructor
At a time in my life, when I was going through some transitions and loss, I was drawn to explore the practice of yoga. Through this exploration I have found my life forever changed. Wanting to share this beautiful practice and the blessings it brought me; I received my 200 hour yoga teacher training, along with extensive training in a restorative yoga practice: "The Art of Surrender" which has completely changed my life. I'm also a Reiki practitioner and energy healer. Having trained with Reiki Master Michelle Roberts of Acupuncture Nirvana.
I look forward to helping others create a holistic approach to balancing their mind, body and spirit.